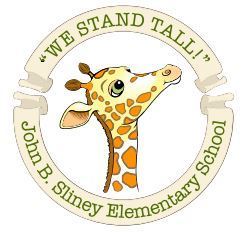 JBS Family Update Week of February 15th, 2021
Maria Clark
Wednesday, February 17, 2021
JBS Family Update
Be Kind. Be Safe. Be Brave.
Important Dates and Information to Remember:
Monday, February 15th – No School, President's Day
Tuesday, February 16th- No School, February Recess
Wednesday, February 17- Day & Evening Parent Conferences
Thursday, February 18th – BLUE COHORT IN-PERSON; ORANGE COHORT ONLINE
Friday, February 19th- ORANGE COHORT-INPERSON
Tuesday, February 23rd- Evening Parent Conferences
Online Learning Reminders
Attendance to LIVE google-meets and completing assignments during at-home learning days are so important for all our students in the BPS Hybrid Learning Model.
Attendance is taken by all classroom teachers everyday. If your child will be absent for the day,, please notify the teacher and the school office via email at slineyoffice@branfordschools.org.
Being set up and ready for learning at home will help your child stay focused throughout their online google-meets!
Here are some tips to help your child stay focused while learning at home:
Create a designated spot for learning!
Gather all materials and supplies for their day in the morning so that they are ready for their at-home learning activities.
When attending LIVE google-meets, use the school device with the camera on at all times and microphone muted when instructed by their classroom teacher.
Keep distracting items in a different location.
Teachers schedule breaks throughout the day such as snack, lunch, recess and bathroom use. Please use this time to check-in with your child, provide him/her time to exercise and time off their devices.
JBS Families – Thank you for your ongoing support at home!!!!
Social Emotional Learning (SEL) District Website Information
SEL Elementary Website SEL Elementary Website
Social Emotional Support Center Website
BPS Elementary Schools are thrilled to provide a social emotional website as a parent resource center to support students and families during these unprecedented times. This website will be able to provide links to resources as well visuals, printables and contact information for staff throughout the district that can help support families with online learning as well as social emotional needs.
Travel Advisory for CT
https://portal.ct.gov/Coronavi...
As of January 22, "Executive Order Regarding Travel: Pursuant to Governor Lamont's Executive Order No. 9S, anyone traveling into Connecticut from a state or territory, other than New York, New Jersey, or Rhode Island, or from a country other than the United States, is directed to self-quarantine for a 10-day period from the time of last contact within the identified state or country." If you are traveling, please inform he school by call the main office or email Maria Clark at mclark@branfordschools.org
JBS School Hours: Start Time 9:10AM End Time: 3:25PM
Morning Drop-Off begins at 9:15am Afternoon Pick-Up begins at 3:15
School Phone Number (203) 481-5386
School Fax Number (203) 483-0749
School Address: 23 Eades Street, Branford, CT 06405
School Motto: We Stand Tall! Be Kind. Be Safe. Be Brave.
School Mascot: Sliney Giraffe
JBS Office Email: slineyoffice@branfordschools.org- please email your child's teacher and this email for your child's afternoon dismissal information. Please also use this email if your child will be absent for the day.
Thank You!
If you have any questions or concerns, please reach out to Maria Clark Principal by email at mclark@branfordschools.org or call (203) 314-0129