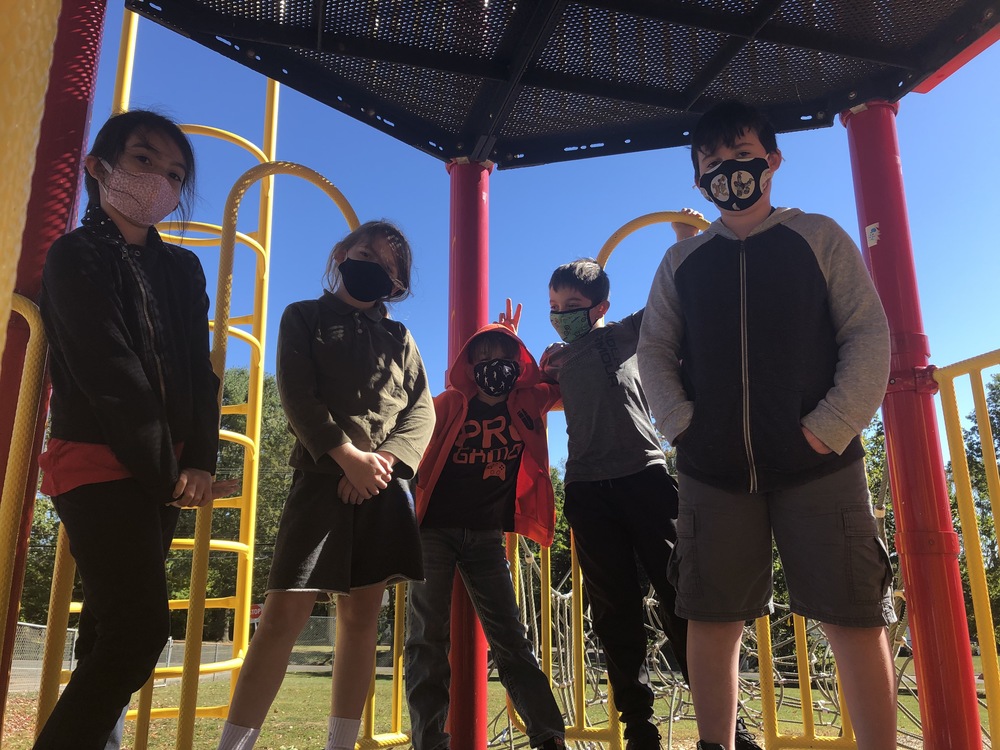 June Newsletter
Murphy School
Thursday, June 03, 2021
Murphy School and You
Parent Newsletter June 2021
Dear Murphy community,
It is June and life for many families has gotten very busy. I hear students and staff alike talking about all the activities they are running off to each evening after the school day is over. The end of a school year will reveal a multitude of mixed emotions for our students, staff and families. Especially a school year like the one we have endured these last several months.
I am so very proud of our students and professional staff for their ability to weather the variety of challenges they have experienced with such enthusiasm and optimism. As a school community, the staff at Murphy has been steadfast in their commitment to the safety and well-being of every student. In addition, the work they have done to cultivate and encourage classroom environments where all students can thrive socially, emotionally and academically has been remarkable.
I want to personally and sincerely thank our Murphy families. I am most appreciative of the support you have given your children in navigating what I hope will be the most challenging circumstances they will have to face as a student in their school career. Your kind words of appreciation for the work of our staff that many have shared with me this year has been a gift to all of us. I look forward to our continued partnership.
I wish you all a restful, safe, healthy and fun filled summer. All my best, Robin
Important Dates: June 16 - minimum day- we dismiss at 1:25 PM...GRADE 4 STEP UP CEREMONY (see below for schedule)
June 18- Last day of school & minimum day,- we dismiss at 1:25 PM
Parent Survey sent on Wednesday, May 26th, Panorama Education emailed all parents/guardians, using the email address on file with the District. The message will contained one or more links to a family survey. Each parent/guardian will be able to complete one survey per child. All surveys must be completed by midnight on Wednesday, June 9th. If you encounter technical issues, please contact our Technology Department by email: homesupport@branfordschools.org
GRADE 4 STEP UP CEREMONY at 2 PM and at 3:15 PM Rain or Shine
DATE -Wednesday June 16 Rain or Shine
TIME-2 PM MS Gomes and MS Lang' classes- 2:00 pm (students will stay in school)
3:15 PM MS Deschaine and MS Ryan' classes- 3:15 pm (students will go home and return at 3:05, report to their classrooms to prepare for the ceremony)
The grade 4 Step Up ceremony is an opportunity to formally and publicly acknowledge each student's completion of grade 4 and transition to the Intermediate School. We will have two ceremonies to maintain social distancing.
We recognize that more family members would like to attend. Unfortunately we cannot accommodate more than two guests per student.
Therefore we will be live streaming the ceremony. Follow these directions to access the live stream: Click here to view Stepping Up activities live at 2:00 pm and 3:15 pm.
Alternatively, you can access the school website at www.branfordschools.org->Sites->Mary T. Murphy School ->Menu->Videos. Each video will be posted at the conclusion of the event.
GUIDELINES
Masks must be worn at all times
Two adults per student are invited to attend
Seating will be in groups of three (each group three feet apart)
VRO can participate in person or remotely, please let their teacher know
GRADE 4 NEWS and UPCOMING EVENTS Our phys ed teachers, Ms Amodio and Ms Templeton, are planning a grade 4 version of a field day on June 15 to coincide with their normally scheduled PE day. June 10 is Science Day with. BHS students from Ms Elperina's classes will be working with our grade 4 students on a variety of science experiments and activities. Usually they come to Murphy but this year it will be done virtually.
FROM STEM:
Hello Murphy Families!
Murphy Students are finishing out the year strong in their STEM classes. Kindergarten Students are working on sorting things in our world between living and non-living and which things are natural or human-made. We will conclude this unit by exploring our five senses. First Grade Students are working to use their knowledge of animal adaptations to help a traveler pack for a visit to an extreme environment. Second Grade Students are hard at work on proposals to prevent erosion in someone's hilly backyard. Third Grade Students are coding away to develop their own choose-your-own-adventure comics. Fourth Grade Students are continuing their investigation of the functions of the human brain and the nervous system. We will be studying the importance of brain safety and prevention/symptoms of concussions to conclude this unit.
We appreciate all of the support provided to us all year long, whether ensuring your child signed on at the appropriate time, coming to the school to pick things up, or simply managing the schedule changes throughout the year. We are so proud of our young scientists! Have a wonderful, relaxing summer. Looking forward to a full year of STEM learning next year! Ms. Steele & Ms. Werth
FROM THE LIBRARY
Hi Murphy Families, We just wanted to thank you all for your continued support this year. We appreciate your flexibility in our book exchange program, as it has been very different from years past.
Murphy Students had a great year learning virtually and in our school library. Some of the topics covered this year included Digital Citizenship, using digital resources and programs, author and literature studies, as well as computer programming.
As the 2020-2021 school year comes to an end, we wanted to remind you of some important end of the year happenings in the library. During the last month of school we complete an inventory of our collection to see what books have not been returned, and what books have been misplaced in the library. During this time we would ask that all library materials be returned no later than Friday, June 4, 2021. If you have lost or damaged a book you may replace the book in the same format, or pay for the book so that we can replace it for our students. If you have any questions about lost or damaged books, please contact our secretary, Lisa Zullo lzullo@branfordschools.org . During this time the students will continue to have access to our ebooks in Destiny through Clever or Classlinks. If you would like more information about how to access these materials, please contact Lori Kowaleski, lkowaleski@branfordschools.org. We hope you all have a wonderful, safe, and healthy summer. We look forward to seeing you in the fall for more learning in our library. Happy Reading! Mrs. Kowaleski & Mrs. Zullo